Custom Battery Solutions
Power Products™ develops and manufacturers customized battery packs for a wide range of applications.
With more than ten years of experience developing power related products and a steadfast commitment to "quality first", Power Products is well equipped to supply batteries that meet your specialized requirements. Whether your application is a communication, medical, data collection, or security product, we can provide a high quality and cost effective battery solution.
In the area of design and testing, our capabilities include:
Improving reliability and/or reducing cost for existing products.
Developing new power solutions based on your specific requirements.
Preparing prototypes for testing and evaluation.
Managing UN/DOT and UL testing when needed.

With respect to manufacturing, we can support low, medium, or high volume requirements utilizing our established manufacturing and overseas transportation partners.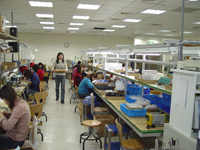 For every project, Power Products adheres to rigorous quality standards. Our quality assurance system covers not only the manufacturing process at the factory, but also pre-delivery inspection at our Atlanta facility.
As a business partner, you will find Power Products committed to providing custom battery solutions that fully meet your requirements and on-time delivery of every order. To request a quote, please visit our Contact Page.
We look forward to supporting your next project!